Foam Roof Coatings
Commercial & Industrial Roof Coating
What We Do
Install high quality foam roof coatings for commercial buildings
Provide a product that is durable and long lasting.
Install a product that is extremely effective at reducing the amount of heat that a buildings roof is exposed to.
Install foam roof coatings for a variety of buildings across different industries.
Other Highlights
Single component, moisture cured slilicone roof coating that is solvent-free to be easier on the environment and offer same functionality as pther petroleum-based commercial roof coating products.
95% solids elastomeric coating that creates a uniform, seamless surface, remaining flexible even in low temperatures.
Protects from suns rays, and also from other elements in different seasons of weather.
Can be applied to an existing roof without being considered an additional layer for NYS code purposes, which elminates the cost of disposal from tear-off scenarios.
More information on Gaco Western roof coating products that we use.
Application to a variety of commercial roofs:
Metal - EPDM Rubber - Torchdown (Modified Bitumen) - Concrete - Hypalon, PVC & TPO
Plywood - Cap Sheet - Spray Polyurethane Foam - Transite - Composite Roofs
GacoFlex has passed ASTM E 108 Spread Flame Test, is FM 4470 Class I Approved, has Miami Dade (NOA) Notice of Acceptance and is UL 790, Class A Listed - the highest level of fire protection available. Other ASTM Testing provided ratings for tensile strength, tear resistance, hardness, water immersion, permeability, reflectance, emissivity and flash point
BEFORE AFTER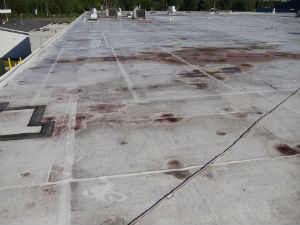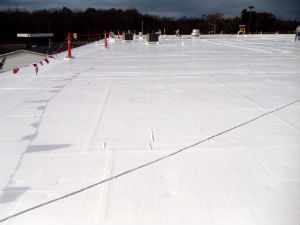 Roof Coating Services For: