Rochester, NY Commercial Roof Coatings
If you are looking for a new roof coating company for your commercial or industrial building, United Thermal Systems offers professional spray foam roofing (SPF) services in the Rochester area. There simply isn't a better option than SPF from United Thermal Systems. With SPF, your building will be better insulated, better protected, and best of all, saves money in the long term. There simply isn't a better Rochester commercial roofing solution than one that physically protects your building while saving you money.
Your Local Commercial Roof Coatings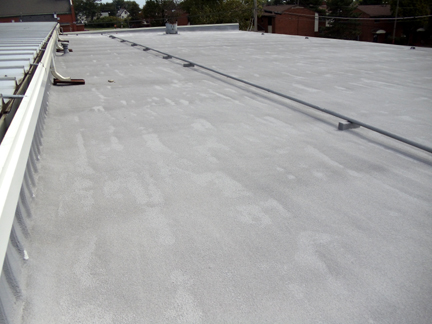 SPF protects your industrial or commercial buildings in a number of ways. It is light and has a tensile strength of 40 lbs per square inch, which is more than strong enough for the weight of a person walking on it. As an added bonus, when you get commercial roof coatings in Rochester from United Thermal Systems, we engage the services of a third-party inspector to check the quality of our work to assure you that the service we provide is being completed to the highest standards.
Roof Coatings That Save You Money
SPF from United Thermal Systems saves you money in two important ways. First, it improves insulation with decreased energy costs, especially at the height of summer and winter. You can easily save 30% to 50% in energy costs every year. Second, the lifespan of SPF is effectively infinite.
Requiring only occasional inspections and a reapplication every 20 years, you will have a long-lasting product that will make a difference in your energy bills.
So how can we help you? Tell us about your building and we can get started, Contact United Thermal Systems today!