Syracuse, NY Spray Foam Roofing
When installing or reinstalling the roofing on your industrial or commercial building in Syracuse, NY, you need two things:
A roof that will meet or exceed industry regulations
A roof that will last for decades with minimal need for repairs or maintenance
The best option for both of these needs is spray foam roofing (SPF) from a professional SPF contractor. In Upstate New York, no spray foam roof contractor is better than United Thermal Systems.
Advantages of SPF Roofing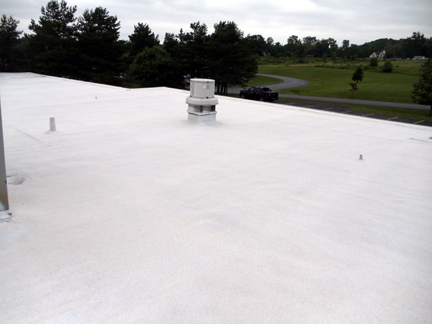 SPF roofing is a popular commercial and industrial roofing option because of its longevity. An SPF roof, installed by a professional SPF contractor, should last for the life of the building, requiring a new coating only once every 20 years. That is by far the lowest maintenance option for roofing.
And, of course, spray foam roofing meets or exceeds the industry regulations for commercial and industrial buildings in the state of New York, when properly installed by an SPF contractor familiar with those regulations. The experts at United Thermal Systems are very familiar with those regulations and will work to ensure your roof is compliant.
Another major advantage of SPF roofing is that it is environmentally friendly in two different ways. First, it is listed as a "Green" building material by the Green Buildings Material Council. More importantly, though, it is also highly energy efficient. After a professional SPF contractor installs your SPF roofing, you can expect to see savings on your energy bill of up to 50%. Those savings may even be enough that the roof literally pays for itself in less than a decade.
Finally, SPF roofing is extremely sturdy and weather resistant. It is waterproof and resistant to stresses caused by changes in temperature. It is also strong enough to support a significant weight, allowing people to safely walk on the roof without damaging it, when necessary.
Contact Us Today
If you own a commercial or industrial building in Syracuse, NY that needs a roof replacement or a roof installation, contact United Thermal Systems today. Our experts will install spray foam roofing on your building quickly and at a price that is highly competitive.