Niagara Falls, NY Spray Foam Roofing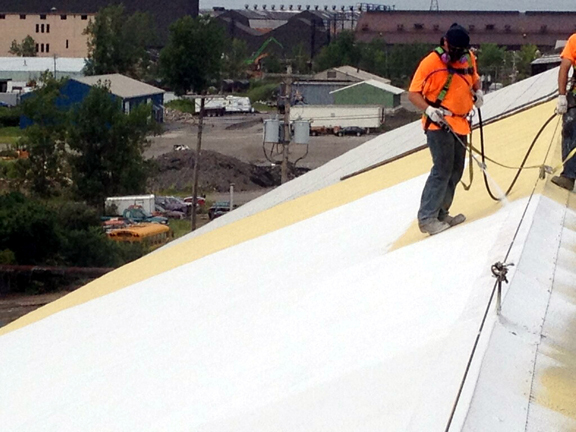 Imagine that you can install a new roof on your Niagara Falls, NY commercial or industrial building that will give you peace of mind for almost two decades. Sound too good to be true? It isn't if you get spray foam roofing installed from United Thermal Systems.
Why Hire a Spray Foam Roofing Contractor?
Spray Polyurethane Foam (SPF) roofing is a state of the art roofing system that is certified for use in New York for nearly all types of industrial and commercial buildings. This type of roofing is highly durable, easy to install, good for the environment, and incredibly energy efficient.
Benefits of SPF Roofing
Compared to traditional roofing materials, like wood, steel, aluminum, and tin, SPF roofing offers a wide variety of benefits for your building, including:
Minimal Need for Maintenance - On average, a spray foam roof only needs to be re-coated once every 20 years and requires no other maintenance between re-coatings
Weather Resistant - Polyurethane foam contracts and expands less due to changes in temperatures than other roofing materials, resulting in less strain on the roof during harsh weather
Environmentally Friendly - SPF roofing is listed as a "Green" building material by the Green Buildings Material Council
Energy Efficient - Companies that switch to an SPF roof enjoy savings in energy costs of as much as 50%
Strong Material - An SPF roof can bear higher weights than most roof materials, allowing fully grown adults to walk on it safely without damaging it
Easy to Install - This material can be installed directly on top of an existing roof, reducing the total time and cost necessary for installation
Inspected for Quality - All roof installations performed in Niagara Falls by United Thermal Systems are inspected for quality by an independent third party, to ensure your company is getting the highest possible quality of service
Schedule a Free Estimate and Energy Savings Report
If you are considering hiring a spray foam roofing contractor for your industrial or commercial building, contact United Thermal Systems today. We will schedule a free estimate and energy savings report to help you decide whether to get this revolutionary roofing material installed.