Albany, NY Industrial Roofing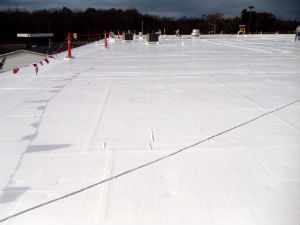 At United Thermal Systems, we offer the industrial roofing solutions you need. Today's company needs more flexible and versatile product offerings, and we can deliver. As a trusted industrial roofing contractor, we work closely with you to give you plenty of options in materials. You can expect to find energy-efficient products, green roofing solutions, and highly durable materials that can help ensure that your roof is as reliable as possible.
What You'll Get from Our Industrial Roofing Team
A Albany's premier industrial roofing company, United Thermal Systems aims to provide you with exceptional service and workmanship. We've completed more than eight million square feet of roofing installation over the years. More so, we offer the most up to date materials available while ensuring that each one of our technicians has ample training to install them properly. Ask us about the spray polyurethane (SPF) roofing products we offer. Talk to us about the energy efficient solutions you need.
We often recommend this type of roofing for its durability and its energy efficiency. Many of our clients love the finished result because they can rely on it for years to come. More so, because of its strength of 40 pounds per square inch, you do not have to worry about wear and tear common with other roofing systems. Repair costs are minimal over the lifetime of this roofing solution.
It is important to have an experienced, well-trained team to install your roofing for you. You need outstanding workmanship. We're just the industrial roofing contractor you are looking for in this area.
We Make Industrial Roof Repairs & Installation Easy
As a trusted industrial roofing contractor in Albany, United Thermal Systems is available to discuss all of our roofing solutions with you today. We encourage you to give us a call to set up a free estimate for your needs. You can depend on us to answer any questions you have at that consultation. We are happy to talk about SPF and other types of industrial roofing products that may fit your project. Give us a call today to learn more about the services we can offer to you.