Commercial Foam Roof Coatings For Albany, NY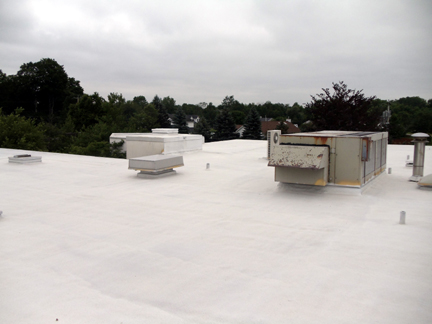 Searching for a commercial roofing company you can count on to deliver exceptional quality products and customized solutions for your commercial or industrial building?
Here United Thermal Systems, we're proud to be the commercial roofing company of choice among discerning commercial property owners and managers throughout Albany, NY. We're the experts when it comes to the application of spray foam roofing - an innovative, eco-friendly commercial roofing product that has an impressive 20-year lifespan. It provides excellent protection against heat gain and loss; can help flatten out warped roofs; and adds value to your building.
Energy-Efficient Commercial Roofing Installations
At United Thermal Systems, our professional spray foam roofing is designed to significantly improve the energy-efficiency of any building - without adding excessive weight to the roof structure. Our exceptionally strong roofing materials can hold up to our tough weather conditions here in Western New York, and once applied, the roof is safe to walk on, allowing for worry-free access to HVAC units and other roof-mounted fixtures.
Premier Albany COmmercial Roofing
When you hire our commercial roofing contractors to upgrade the roof on your building with our spray foam roofing, you can rest assured that the job will be done right. All of our commercial roofing projects are inspected by a third-party commercial roofing specialist to verify that our workmanship has been applied in a way that ensures you'll enjoy years of trouble-free performance and savings on your industrial heating and cooling costs.
Contact United Thermal Systems - Your Local Commercial Roofing Contractor
To learn more about why we're the leading commercial roofing contractor in Albany, NY, contact us today to speak with one of our commercial roofing specialists. We'll review your project, discuss your options, and provide you with a clear, easy-to-understand quote that includes all the skilled labor and materials it takes to upgrade your commercial roof with our spray foam roofing.