Foam Insulation Contractor of Niagara Falls, NY
Foam insulation is a key component of your facility or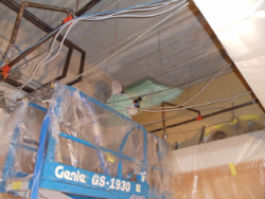 commercial building, and you want to find a team of skilled foam insulation contractors in Niagara Falls, NY to install it. Our skilled team of foam insulation contractors will apply our spray foam insulation.
Effective on almost any surface and expanding to fill the space it's applied to, our foam insulation will meet any government regulations and create a complete and strong thermal barrier for your facility.
Benefits of Foam Insulation
Our insulation foam is highly durable and long lasting. Once our team of contractors install it to almost any surface you require, it will require minimal maintenance and be there for years to come. You'll also see savings on your energy costs, saving 30 percent to 50 percent annually; it'll keep your building cooler in the summer and warmer in the winter. Our foam insulation additionally is eco-friendly, serving your building and the environment.
Our Insulation Benefits:
Durable and long lasting
Eco friendly
Meets government regulations
Excellent thermal barrier
High R value
Contact Us
For more information about our foam insulation contractors in the Niagara Falls area or to get an estimate, contact us today!