Acoustic Building Insulation
Available in Niagara Falls, NY
Industrial buildings are no strangers to noise from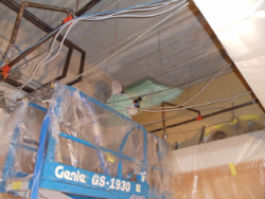 heavy machinery. Combat that noise in your Niagara Falls, NY, facility with acoustic building insulation provided by United Thermal Systems. Our expert contractors will easily spray your improved insulation in no time, and you'll be able to experience the improvement in no time.
Taking a natural texture after application, our insulation doesn't need anything over it. It just needs to be sprayed in place and then it's ready. It also serves as a layer of fireproofing.
Experience more benefits with our spray-in-place acoustic insulation.
Benefits of Our Acoustic Insulation:
Overall quieter
Less echoing
Easier communication
Improved concentration and productivity
Better safety
Choose United Thermal Systems and begin to experience the benefits of acoustic insulation on your Niagara Falls building immediately after install.
Contact Us Today
Contact our experienced team at United Thermal Systems to get an analysis of your facility and a personalized estimate tailored to your Niagara Falls facility and to answer any questions you may have.